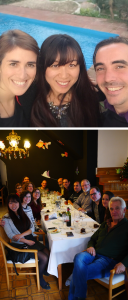 Today we are saying goodbye to our dear Yaoyao, though we hope to see her very soon again.
Yaoyao is currently finishing her PhD on metabonomics applied to clinical biomarkers in the Legido-Quigley Lab at King's College London (KCL).
She has been visiting us for the last two months, during which we have been working together in two metabonomics projects related to drug misuse biomarkers and chiral metabonomics. It has been a great pleasure for us to spend this time with her and continue with this collaboration from now on.
© 2015, Miriam. All rights reserved by the author(s) and Universitat Autonoma de Barcelona except for texts and images already copyrighted by third parties (e.g. journal publishers) and used here under the fair use provision.