"Mycobacteria clumping increase their capacity to damage macrophages" by C. Brambilla, M. Llorens-Fons, E. Julián, E. Noguera-Ortega, C. Tomàs-Martínez, M. Pérez-Trujillo, T. F. Byrd, F. Alcaide and M. Luquin.
Front. Microbiol. 7:1562.  DOI: 10.3389/fmicb.2016.01562
The rough morphotypes of non-tuberculous mycobacteria have been associated with the most severe illnesses in humans. This idea is consistent with the fact that Mycobacterium tuberculosis presents a stable rough morphotype. Unlike smooth morphotypes, the bacilli of rough morphotypes grow close together, leaving no spaces among them and forming large aggregates (clumps). Currently, the initial interaction of macrophages with clumps remains unclear. Thus, we infected J774 macrophages with bacterial suspensions of rough morphotypes of Mycobacterium abscessus containing clumps and suspensions of smooth morphotypes, primarily containing isolated bacilli. Using confocal laser scanning microscopy and electron microscopy, we observed clumps of at least 5 rough-morphotype bacilli inside the phagocytic vesicles of macrophages at 3 hours post-infection. These clumps grew within the phagocytic vesicles, killing 100% of the macrophages at 72 hours post-infection, whereas the proliferation of macrophages infected with smooth morphotypes remained unaltered at 96 hours post-infection. Thus, macrophages phagocytose large clumps, exceeding the bactericidal capacities of these cells. Furthermore, proinflammatory cytokines and granuloma-like structures were only produced by macrophages infected with rough morphotypes. Thus, the present study provides a foundation for further studies that consider mycobacterial clumps as virulence factors.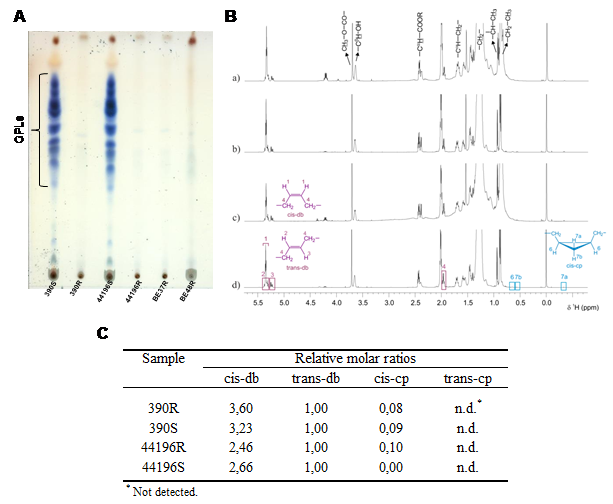 Figure. Content of GPL and structure of mycolic acids. (A) 1-D TLC analysis of the crude lipid extracts of M. abscessus strains. (B) 1H-NMR spectra of purified mycolic acid methyl esters from M. abscessus. (C) Relative molar ratios of molecular moieties cis-db, trans-db, cis-cp and trans-cp of mycolic acid methyl esters from M. abscessus.
© 2016 – 2020, Miriam. All rights reserved by the author(s) and Universitat Autonoma de Barcelona except for texts and images already copyrighted by third parties (e.g. journal publishers) and used here under the fair use provision.