Esteu convidats a la presentació del software Mnova (Mestrelab Research) el proper dimecres 1 de Març a l'aula C1/009, de 15:30 a 17:30. És una eina de gran utilitat per qualsevol químic interessat en el processament/manipulació rutinàri/a de  dades de RMN (i altres tècniques analítiques) d'una manera ràpida, eficient i molt intuitiva. Es presentarà les novetats més importants de la nova versió Mnova11 així com es resoldrà qualsevol qüestió pràctica que es plantegi.
You are invited to the presentation of the new Mnova software package (Mestrelab Research) on Wednesday March 1st in class C1 /009, from 15:30 to 17:30. It is a useful tool for any chemist interested in processing / handling routine NMR data (and other analytical techniques) in an efficient and intuitive way. The most important developments of the new version Mnova11 will be presented and practical question of interest will be discussed.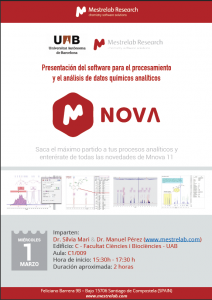 © 2017, Teo. All rights reserved by the author(s) and Universitat Autonoma de Barcelona except for texts and images already copyrighted by third parties (e.g. journal publishers) and used here under the fair use provision.