"On the interference of J(HH) modulation in HSQMBC-IPAP and HMBC-IPAP experiments", by Josep Saurí and Teodor Parella; Magn. Reson. Chem. 2013. DOI: 10.1002/mrc.3977
The effects of phase signal modulation due to homonuclear proton–proton coupling constants in HSQMBC-IPAP and HMBC-IPAP experiments are experimentally evaluated. An assessment of the reliability ofnJCH measurement from distorted cross-peaks obtained in IPAP versions of HMBC and HSQMBC experiments is presented. Finally, it is shown that HMBC-COSY experiments could be an excellent complement to HMBC for the measurement of small nJCH values.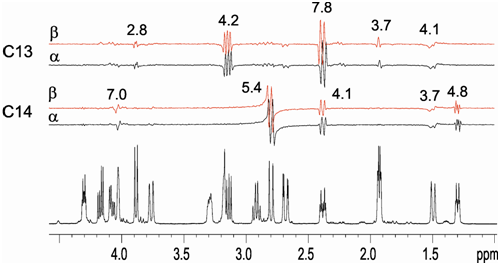 Pulse Program Code for Bruker:
© 2013 – 2017, Josep. All rights reserved by the author(s) and Universitat Autonoma de Barcelona except for texts and images already copyrighted by third parties (e.g. journal publishers) and used here under the fair use provision.