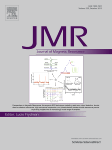 "Efficient and fast sign-sensitive determination of heteronuclear coupling constants" by Josep Saurí, Pau Nolis and Teodor Parella. Journal of Magnetic Resonance 236 (2013) 66–69. DOI: http://dx.doi.org/10.1016/j.jmr.2013.08.013
Two complementary 1D NMR approaches for the fast and easy determination of the magnitude and the sign of heteronuclear J(XH) coupling constants are proposed:The Up&Down technique relies on the direct analysis of anti-phase multiplets whereas the Left&Right technique is based on the relative displacement between separate IPAP components.
Pulse Programs Code for Bruker:
© 2013 – 2020, Josep. All rights reserved by the author(s) and Universitat Autonoma de Barcelona except for texts and images already copyrighted by third parties (e.g. journal publishers) and used here under the fair use provision.