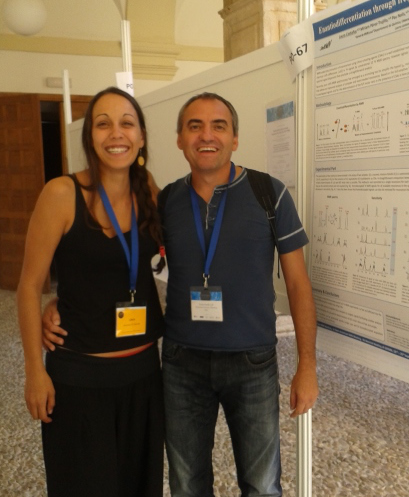 Laura Castañar is honoured by JANSSEN with the accessit prize for her oral communication Enantiodifferentiation through Frequency-Selective Pure-Shift 1H NMR at the VII Biennial Meeting of the Nuclear Magnetic Resonance Group of the Spanish Royal Society of Chemistry / IV Iberian NMR Meeting / VI Ibero-American NMR Meeting (GERMN 2014) held in Alcalá de Henares, Spain, from 22nd to 24th September, 2014.
In her oral presentation "Enantiodifferentiation throgh frequency-selective pure shift 1H NMR" Laura explained that pure shift NMR experiments, by simplifying the typical JHH multiplicity pattern of 1H signals to singlets, allow an improved analysis of complex and overcrowded spectra, and that such approach can be used to determine the enantiomers molar ratio in the presence of chiral solvating agents.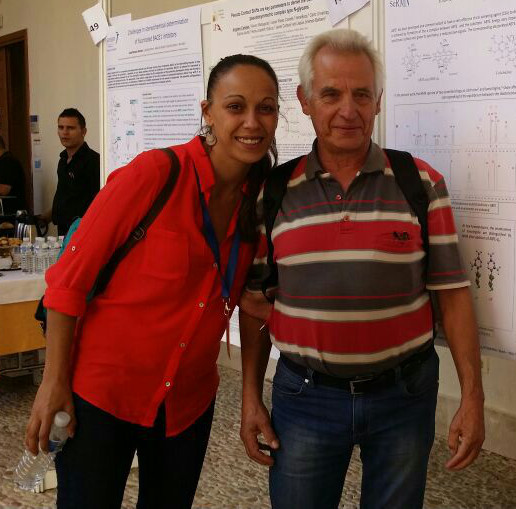 Laura has been working as a Ph.D. candidate at the Department of Chemistry and SeRMN under the co-direction of Dr. Albert Virgili and Dr. Teodor Parella since Sept 2012, when she enrolled in the Department of Chemistry doctoral program at Universitat Autònoma de Barcelona with a fellowship from UAB. She is currently in her third year and expects to defend the doctoral thesis on 2015. You can read about her work on this blog.
© 2014 – 2020, Miquel. All rights reserved by the author(s) and Universitat Autonoma de Barcelona except for texts and images already copyrighted by third parties (e.g. journal publishers) and used here under the fair use provision.