"A

new ex vivo method to evaluate the performance of candidate MRI contrast agents: a proof-of-concept study" by Candiota A.P., Acosta M., Simões R.V., Delgado-Goñi T., Lope-Piedrafita S., Irure A., Marradi M., Bomatí-Miguel O., Miguel-Sancho N., Abasolo I., Schwartz S. Jr., Santamaría J., Penadés S., Arús C. J Nanobiotechnology 2014 12:12. DOI: 10.1186/1477-3155-12-12.
A new method has been developed for selecting MRI contrast agents with better expected in vivo performance. This method requires only a very small amount of contrast agent (e.g. 5 nmols/animal, 800 times less than the quantity necessary for in vivo administration) and allows to carry out a more rationally informed candidate selection, avoiding unnecessary in vivo and toxicology tests for the ex vivo poorly performing substances, consequently reducing animal needs, material consumption and overall costs. For validation, novel paramagnetic gadolinium-based gold nanoparticles (Gd-GNPs) as well as superparamagnetic iron oxide nanoparticles (SPIONs) were tested.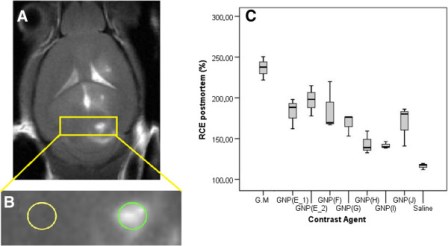 © 2014 – 2020, Silvia. All rights reserved by the author(s) and Universitat Autonoma de Barcelona except for texts and images already copyrighted by third parties (e.g. journal publishers) and used here under the fair use provision.