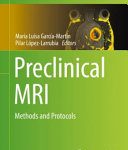 García Martín, María Luisa & Pilar López Larrubia (eds.). 2018. Preclinical MRI. Methods in Molecular Biology series. Springer New York. DOI: 10.1007/978-1-4939-7531-0
This book was conceived with the idea of providing an update on a wide variety of preclinical MRI methods and protocols to help technicians and researchers interested in this technology. The basics of MRI physics are introduced, followed by chapters describing updated methodology and protocols for some standard and more advanced MRI techniques covering diffusion, perfusion, functional imaging, in-vivo spectroscopy (proton and heteronuclear), susceptibility contrast MRI… The book also contains some chapters where some applications of those methods are illustrated in animal models of several diseases including cancer, stroke and neurodegeneration. Protocols are described in a step-by-step approach, with interesting notes and tips at the end of each chapter, which -a priori- should allow the new worker to obtain successful results with the first attempt ;o) .
© 2018 – 2019, Silvia. All rights reserved by the author(s) and Universitat Autonoma de Barcelona except for texts and images already copyrighted by third parties (e.g. journal publishers) and used here under the fair use provision.