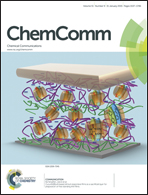 "Ultra high-resolution HSQC: Application to the efficient and accurate measurement of heteronuclear coupling constants" by Núria Marcó,  Andre Fredi and Teodor Parella. Chemical Communications 2015, 51:3262-3265. DOI: 10.1039/C4CC10279G
A rapid NMR data acquisition strategy in terms of enhanced resolution per time unit for the simple and efficient determination of multiple coupling constants is described. The use of 13C spectral aliasing combined with broadband 1H homodecoupling allows accurate measurements from ultra high resolved 2D HSQC cross-peaks.

Pulse Program Code for Bruker:
Data set Example:
© 2015 – 2020, Núria. All rights reserved by the author(s) and Universitat Autonoma de Barcelona except for texts and images already copyrighted by third parties (e.g. journal publishers) and used here under the fair use provision.