"MORPHOLOGICAL MOUSE PHENOTYPING: Anatomy, Histology and Imaging" by Jesús Ruberte París, Ana Carretero Romay, and Marc Navarro Beltrán (2016). Editorial Médica Panamericana.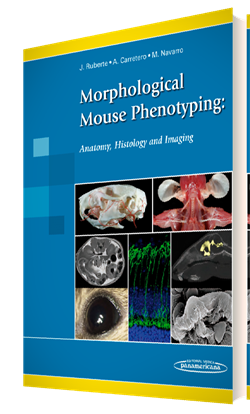 An extraordinary atlas of mouse anatomy which includes more than 2,200 original images over 600 pages to show the anatomy, histology and cellular structure of mouse organs. This book attempts to provide an overview of the different levels of morphology of the mouse, ranging from gross anatomy and topographical anatomy (to explain the relative position of the organs and structures of a particular body region) down to the microscopic anatomy. Imaging technologies used for that include magnetic resonance imaging (MRI), computed tomography (CT), ultrasonography, angiography, X-ray, and electron microscopy. Also, classical anatomical techniques such as conventional dissection, skeletal preparations, vascular injections, histology and immunohistochemistry have been employed to characterize the mouse morphology.
All MRI images included in this book were acquired at our NMR facility (SeRMN, Universitat Autònoma de Barcelona) in a 7 Tesla Bruker BioSpec spectrometer.
© 2016 – 2018, Silvia. All rights reserved by the author(s) and Universitat Autonoma de Barcelona except for texts and images already copyrighted by third parties (e.g. journal publishers) and used here under the fair use provision.