Next week several SeRMN members will present our research work at the Joint Annual meeting ISMRM-ESMRMB 2014 that will take place in Milan (Italy) from 10th to 16th May. Find below a summary of our contributions.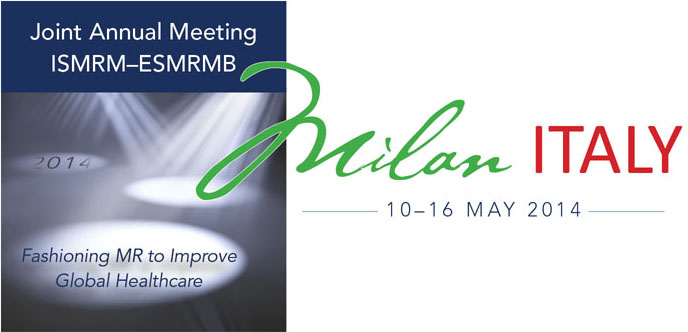 Dynamic MRS of hyperpolarized [1-13C] pyruvate in brain tumor afflicted mice treated with temozolomide (Poster no. 1138). By Teresa Delgado-Goñi, Eva Monteagudo, Miquel Cabañas, Carles Arús and Silvia Lope-Piedrafita. Hyperpolarized [1-13C] pyruvate has been proved to be a promising tool in oncology, where lactate/pyruvate measured ratios have been shown to correlate with disease progression and response to therapy. Most preclinical studies have focused in subcutaneous lymphoma or prostate tumors, but less work has been performed in brain tumors, especially in mice. The aim of this work was to evaluate the detection of response to therapy in a well characterized mouse brain glioma model using hyperpolarized [1-13C] pyruvate.
Hyperpolarized pyruvate allows early detection of lactate in real-time metabolism of acute liver failure rats (Poster no. 2273). By Laia Chavarría, Jordi Romero-Giménez, Eva Monteagudo, Joan Córdoba and Silvia Lope-Piedrafita. Intracranial hypertension is a severe complication of acute liver failure (ALF) secondary to brain edema. The pathogenesis of cerebral edema in ALF is not clear but energy metabolism alterations are involved and genesis of lactate seems to have an important role. The ALF animal model was induced in SD-OFA rats by portocaval anastomosis (PCA) and hepatic artery ligation. The metabolism was assessed by injecting 13C-hyperpolarized pyruvate in PCA and ALF rats both at 6 and 12 hours after surgery, and performing magnetic resonance studies in a 7 T Bruker BioSpec 70/30 USR using a 13C-MR pulse-acquire spectroscopic sequence
© 2014 – 2020, Silvia. All rights reserved by the author(s) and Universitat Autonoma de Barcelona except for texts and images already copyrighted by third parties (e.g. journal publishers) and used here under the fair use provision.